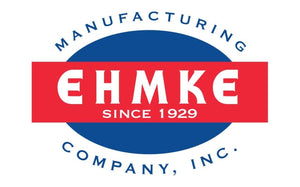 Ehmke Manufacturing Company, Inc. (Philadelphia, PA.) announces the retirement as of March 2, 2020 of Samuel "Cliff" Stokes after 33 years of dedicated service to the company. Mr. Stokes leaves the role of Chief Operating Officer and part owner at Ehmke.
Mr. Stokes' career began at Ehmke in September 1987 as a design engineer who quickly demonstrated his design and product development expertise. By 1990, then-President Louis Verna Jr tapped Cliff to be part of the Ehmke Executive Team; along with taking a minority stake in the business.  In October 1992, Mr. Stokes recruited current Ehmke CEO Bob Rosania to join the company. Mr. Stokes and Mr. Rosania purchased equal shares in the business in 2000. Ehmke grew 10-fold over Mr. Stokes' tenure with the company. Cliff was instrumental in transforming Ehmke from a small "Mom & Pop" operation into the award-winning, national military & aerospace textile end-product manufacturer it is today.  He was directly responsible for instituting many of the LEAN Manufacturing principles utilized today in Ehmke's production facility servicing companies; such as, the Boeing Company, the Defense Logistics Agency, ADS Inc and Sierra Nevada Corporation. Mr. Stokes reflects, "It's hard to believe 33 years have passed, but in that time Ehmke has provided me with the opportunity to develop relationships with so many people. From our employees, customers, suppliers and professional advisors. Thanks to all of you for working with me and growing with Ehmke. I believe that this is a great company and will continue to grow and prosper.  I trust each of you will continue to be an important part of Ehmke's success.  Keep up the good work; you are a wonderful team to work with.  And now as I embark on my never ending vacation…remember: Behind every retired man is a woman who wishes he'd go back to work!"  CEO Bob Rosania added, "It's certainly an end of an era. Not only is Cliff a fantastic COO and business partner, but also just as importantly, a lifelong friend and confidant. Without his efforts, Ehmke is not the company it is today. I speak for everyone at the company, he will be missed." The company does not plan to replace the position of Chief Executive Officer; however, Mr. Stokes' daily responsibilities will be assumed by Ehmke President, Glenn Aust.
Mr. Stokes earned a Bachelor of Science degree in Mechanical Engineering and a Master Fabrics Craftsman certification from the Industrial Fabrics Association International.
About Ehmke. Ehmke Manufacturing Company, Inc, where we MAKE EVERY STITCH COUNT, is one of the very few industrial textile companies left in Philadelphia.  Founded in 1929 by the late Howard Ehmke, former pitcher for the Philadelphia Athletics Major League Baseball Team, the company specializes in the design, fabrication and installation of a diverse selection of technical fabric items for the US Military, Defense Contractors, OEMs and industrial customers.  Ehmke serves a diverse customer base that includes soft interiors for major rotorcraft and fixed wind aircraft platforms, tactical gear for US Special Forces, over 8,000 National Stock Number (NSN) parts for the US. Military and workout equipment for the fitness industry. Honors earned by the company include the Boeing Company Performance Excellent Award: 2007, 2008, 2010, 2016, 2017 and 2018, the Industrial Fabrics Association International (IFAI) International Award of Excellence for design and fabrication expertise in 2000, 2001, 2002, 2004, 2010, 2012 and 2016, and the 2005 U.S. Small Business Contractor of the Year Award
For more information about the company, go to www.ehmkemanufacturing.com and www.highgroundgear.com.