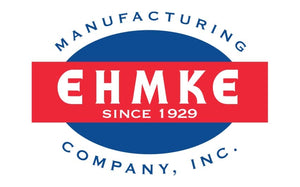 Ehmke Manufacturing (Philadelphia, PA.) announces the promotion effective immediately of the Jared Massaro from Quality Engineer to Quality Manager to Continue the legacy of outstanding quality at Ehmke.
Jared Massaro fills the position previously held long-time Quality Manager, Rich Ludwig.  Mr. Ludwig will continue at the company specializing in AS9100D inspections of Ehmke's Aircraft Products line. Mr. Massaro is a graduate of Drexel University earning a BS Degree in Mechanical Engineering. Ehmke CEO Bob Rosania looks forward to Mr. Massaro's leadership in the Quality Department, "Jared is another example of a true Ehmke success story. He first started as part of our intern program at 8 years ago, spent three (3) college engineering co-op rotations with the company and now has risen in the organization through hard work. He understands the requirements of the AS9100D and ISO 9001 standards assuring our customers will receive quality products.' Mr. Massaro commented about his new responsibilities, "I started working at Ehmke as a Summer Intern in 2012 and now, 8 years later, I am in a position to step up and be a leader. I'm excited for the new challenges and ready to get my hands dirty. It is an honor to have the opportunity to learn, grow, and work with this team. Knowing our team and our capabilities, I cannot wait to see what the future holds for Ehmke."  He will report to President Glenn Aust who added, "In our search for outstanding personnel at Ehmke we look to our team for overall TALENT first. Jared has exhibited the talent we were looking for to LEAD our Quality team. Jared worked with our Engineering team as an intern for 3 years and his work ethic and knowledge of our products made it an easy choice to have him lead our Quality team."
About Ehmke. Ehmke Manufacturing Company, Inc, where we MAKE EVERY STITCH COUNT, is one of the very few industrial textile companies left in Philadelphia.  Founded in 1929 by the late Howard Ehmke, former pitcher for the Philadelphia Athletics Major League Baseball Team, the company specializes in the design, fabrication and installation of a diverse selection of technical fabric items for the US Military, Defense Contractors, OEMs and industrial customers.  Ehmke serves a diverse customer base that includes soft interiors for major rotorcraft and fixed wind aircraft platforms, tactical gear for US Special Forces, over 8,000 National Stock Number (NSN) parts for the US. Military and workout equipment for the fitness industry. Multiple honors earned by the company include the Boeing Company Performance Excellent Award: 2007, 2008, 2010, 2016, 2017 and 2018, the Industrial Fabrics Association International (IFAI) International Award of Excellence for design and fabrication expertise in 2000, 2001, 2002, 2004, 2010, 2012 and 2016, and the 2005 U.S. Small Business Contractor of the Year Award
For more information about the company, go to www.ehmkemanufacturing.com and www.highgroundgear.com.